Lookbook - Spring Summer 2015
Hand Beaded Kaftans
Dresses & Jumpsuits
Look # 1

Masai Tribal Dress
Look # 1

Beaded Dress - Back
Look # 2

Red Indian Tunic Dress
Look # 4

Tribal Ruffle Dress
Look # 5

Shawl Collar Dress
Look # 6

Tribal Circular Dress
Look # 6

Dress With Bomber Jacket
The Spring Summer 2015 Women's Wear Collection is a vibrant and bold fashion line inspired by tribal prints from Africa and America and animal prints featuring elephants, cheetahs, tigers, and gorillas. The collection showcases various colors and patterns, incorporating intricate hand embroidery with glass beading for added texture and detail.
The collection is designed and crafted in Dubai, combining cultural influences and contemporary fashion. This collection includes short dresses, tunics, trousers, jumpsuits, long, flowy evening dresses, and kaftans, catering to various occasions and preferences. Using pure silks such as satin, crepe, and habutai adds a luxurious touch to the garments, enhancing their quality and elegance.
Overall, the Spring Summer 2015 Women's Wear Collection stands out for its eye-catching tribal and animal prints, vibrant colors, and meticulous hand embroidery, creating a fashion statement that combines tradition with modernity.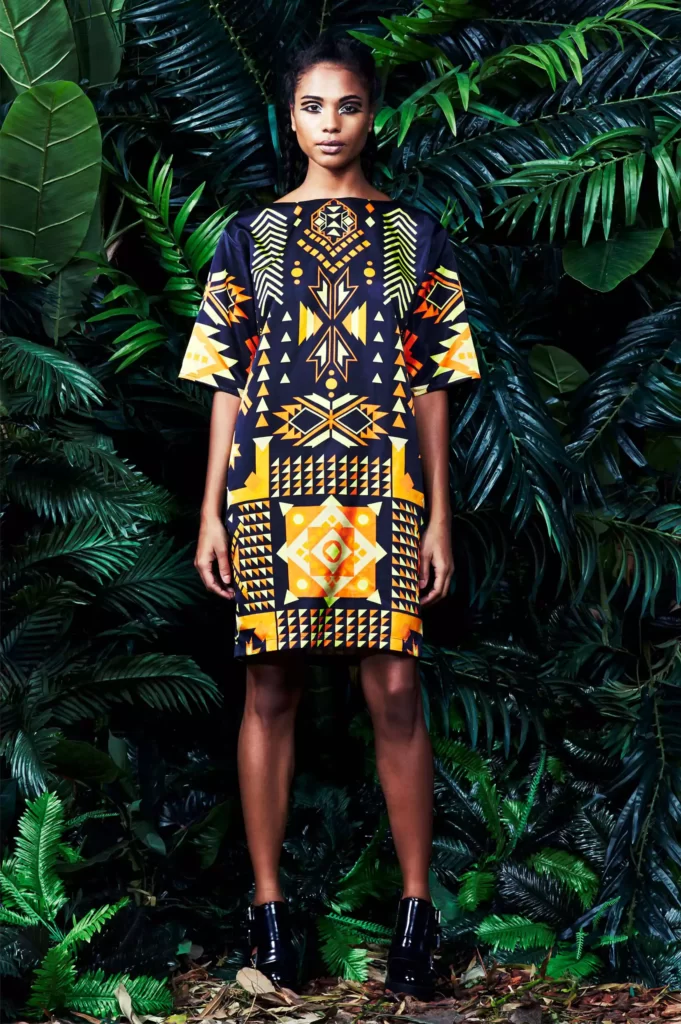 Look # 7

Tribal Kimono Dress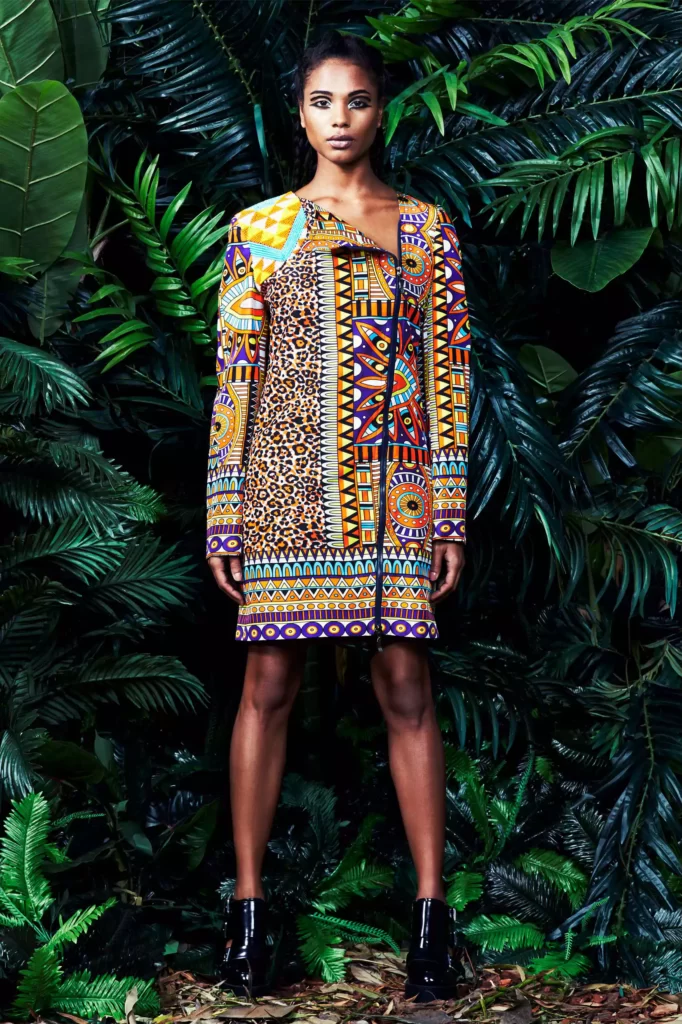 Look # 8

Beaded Coat Dress
Look # 9

Playsuit with Bolero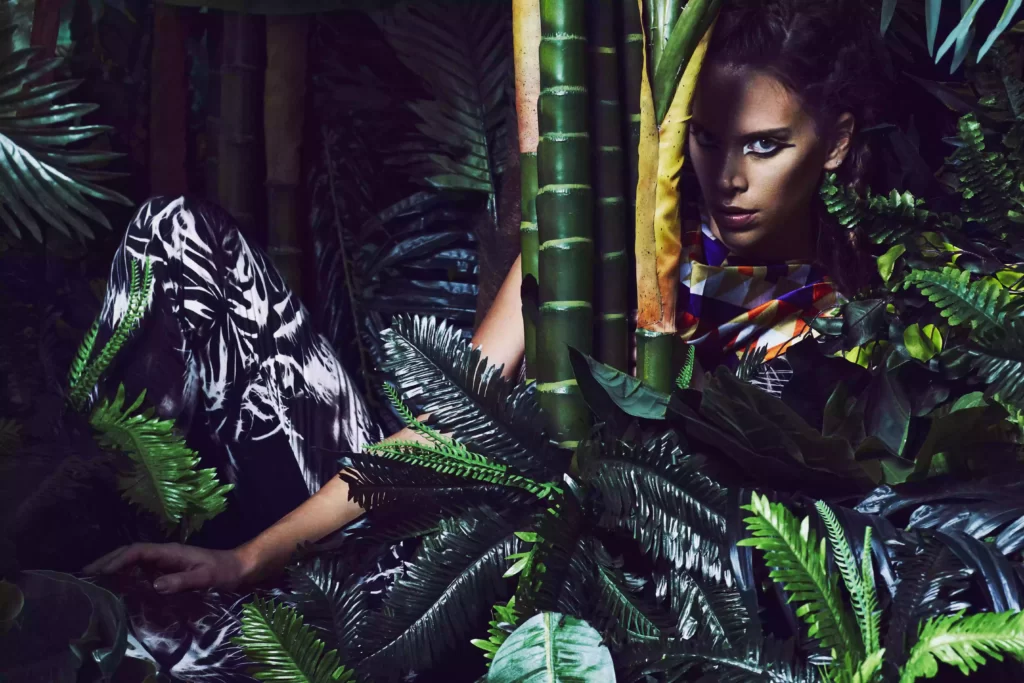 Look # 10

Gorilla Shirt & Shorts
Look # 10

Tribal Jacket & Shorts
Look # 10

Jacket & Shorts - Back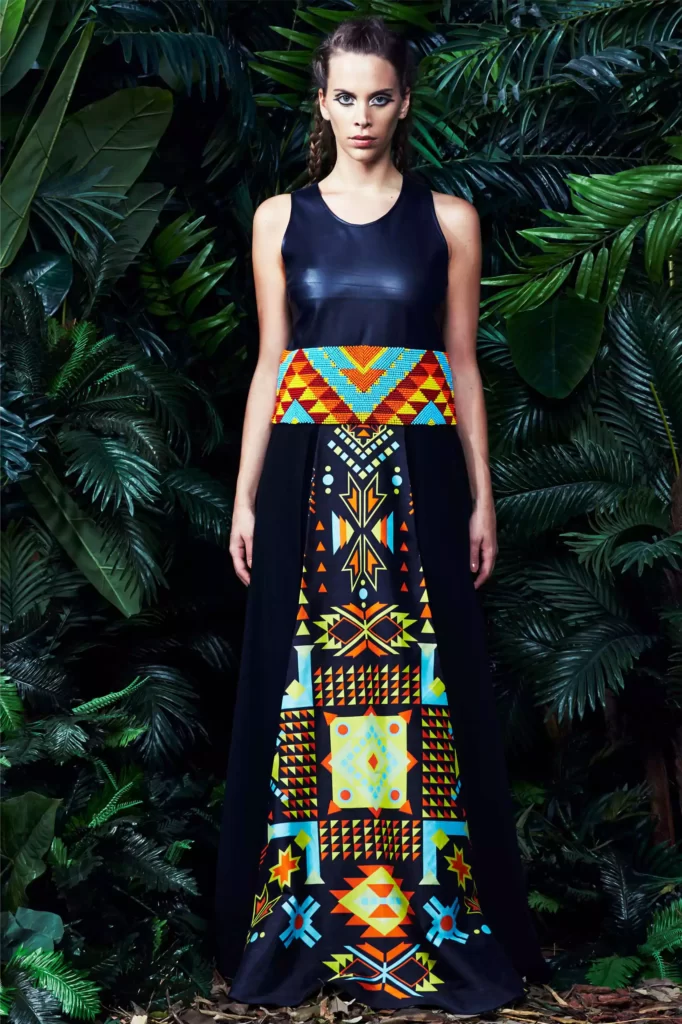 Look # 11

Beaded Vest & Skirt
Look # 12

Beaded Tunic & Skirt
Look # 12

Tunic & Skirt - Back
Look # 13

Gorilla Shirt & Tribal Pants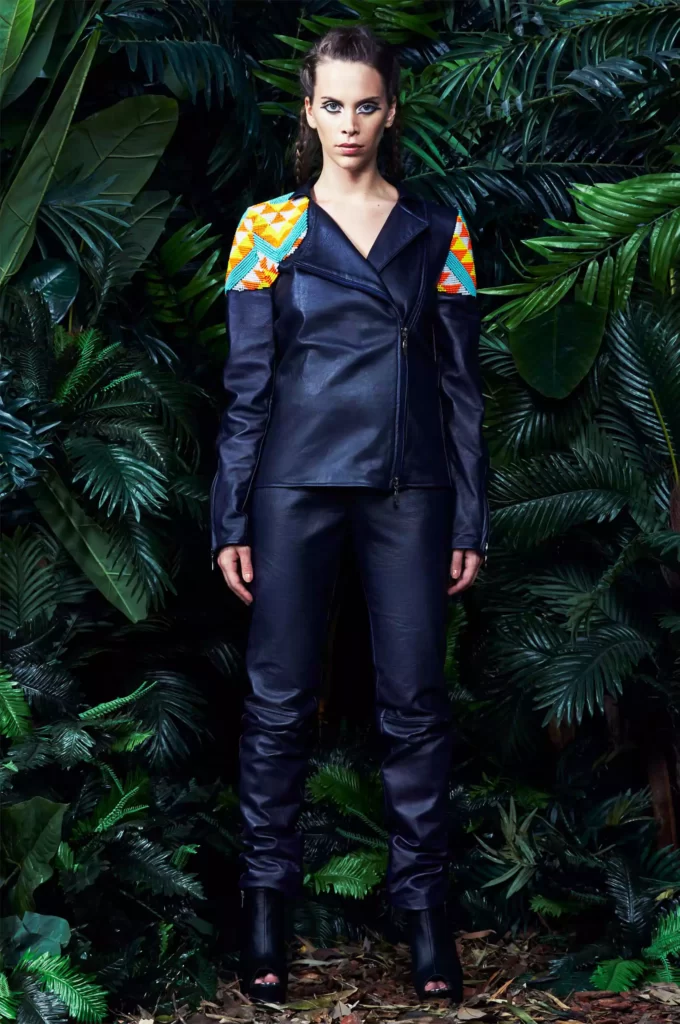 Look # 14

Beaded Biker Jacket & Pants
In the featured collection, glass beading is a transformative embellishment technique. The intricate hand embroidery with glass beads enhances the aesthetic appeal of the garments and serves as the foundation for the collection's color palette and print palette.
Glass Beading Technique:
The artisans have employed a meticulous approach to hand embroidery using glass beads. This craftsmanship is evident in two primary applications: entire dresses or boleros are wholly embroidered with glass beads, creating a luxurious texture that catches the light beautifully. Additionally, the beads are strategically placed at necklines and waistlines, functioning as elegant embellishments that add a touch of sophistication to the garments.
Innovative 3D Embroidery:
What sets this collection apart is the innovative use of 3D embroidery techniques. The glass beads are arranged to interpret the collection's print patterns and designs, resembling pixels of graphics. This 3D effect adds depth and intricacy to the Embroidery, creating a visual masterpiece that captures the eye and adds a dynamic element to the overall design.
Color and Print Palette:
The collection's vibrant and diverse color palette is derived directly from the glass beadwork. The glass beads' reflective quality amplifies the colors' richness, ranging from earthy tones inspired by tribal aesthetics to bold hues in the wild. These colors blend seamlessly, creating a harmonious and visually stimulating palette reflecting nature and culture's essence.
Wild and Tribal Inspiration:
The collection draws inspiration from the wild and tribal themes, incorporating unique prints that testify to the rich cultural tapestry of the rugged landscapes and tribal traditions. These prints are meticulously translated into glass bead embroidery, resulting in garments that showcase the brands' creativity and pay homage to the beauty of wildlife and indigenous artistry.
In summary, the glass beading in this collection represents a fusion of art and fashion, transforming each piece into a wearable work of art. Through innovative 3D embroidery techniques, the collection's color palette and print palette come to life, showcasing a harmonious blend of luxury, creativity, and cultural inspiration.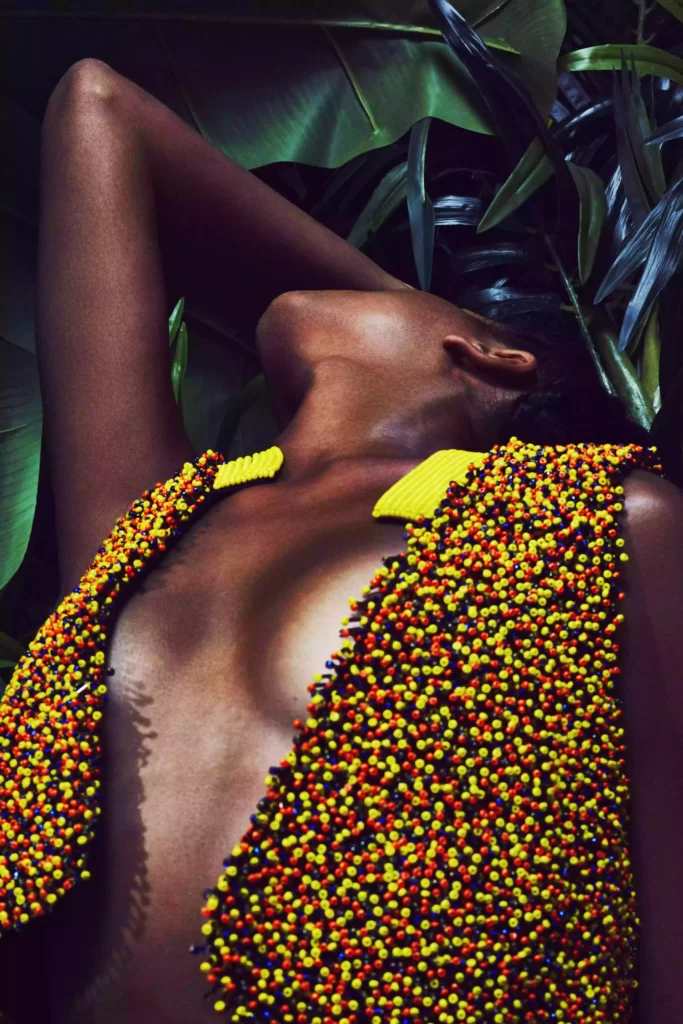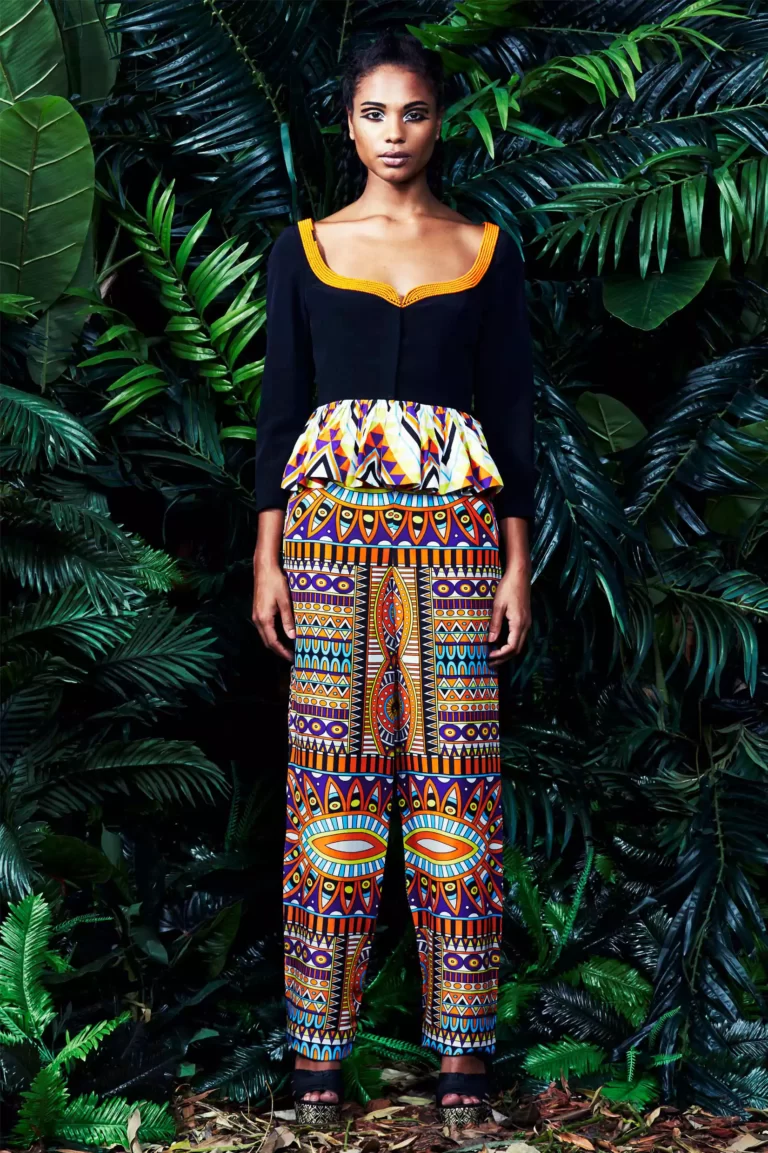 Look # 15

Ruffled Blouse & Tribal Pants
Look # 16

Tribal Tunic & Pants
Look # 17

Tribal Kaftan & Pants
Look # 18

Tribal JUmpsuit
Look # 19

Tribal Wrap Jumpsuit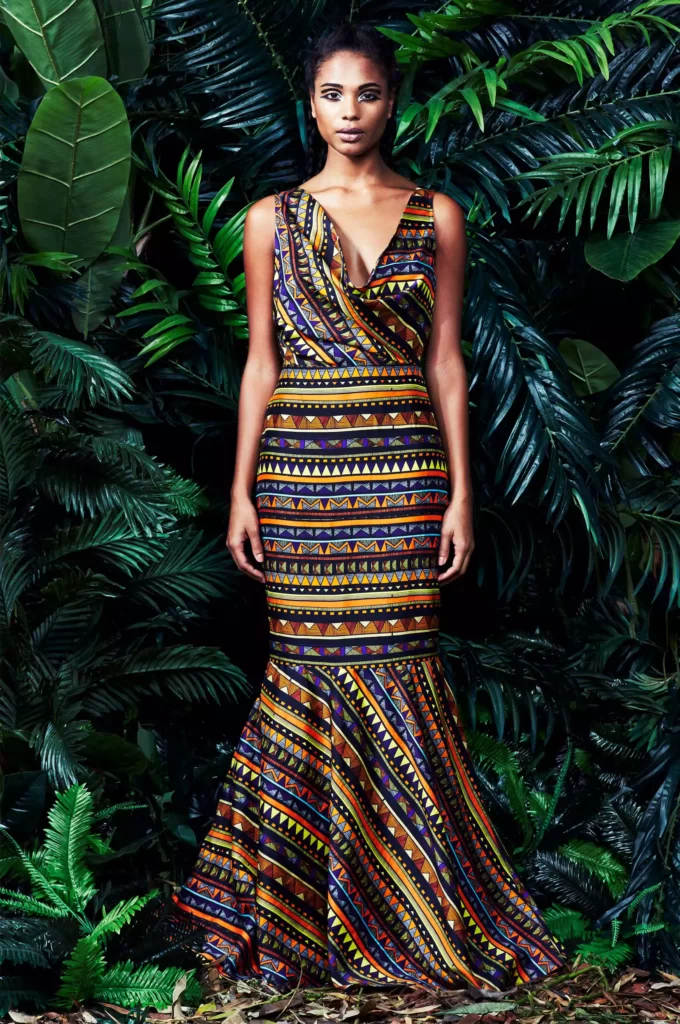 Look # 21

Cowl Neck Tribal Dress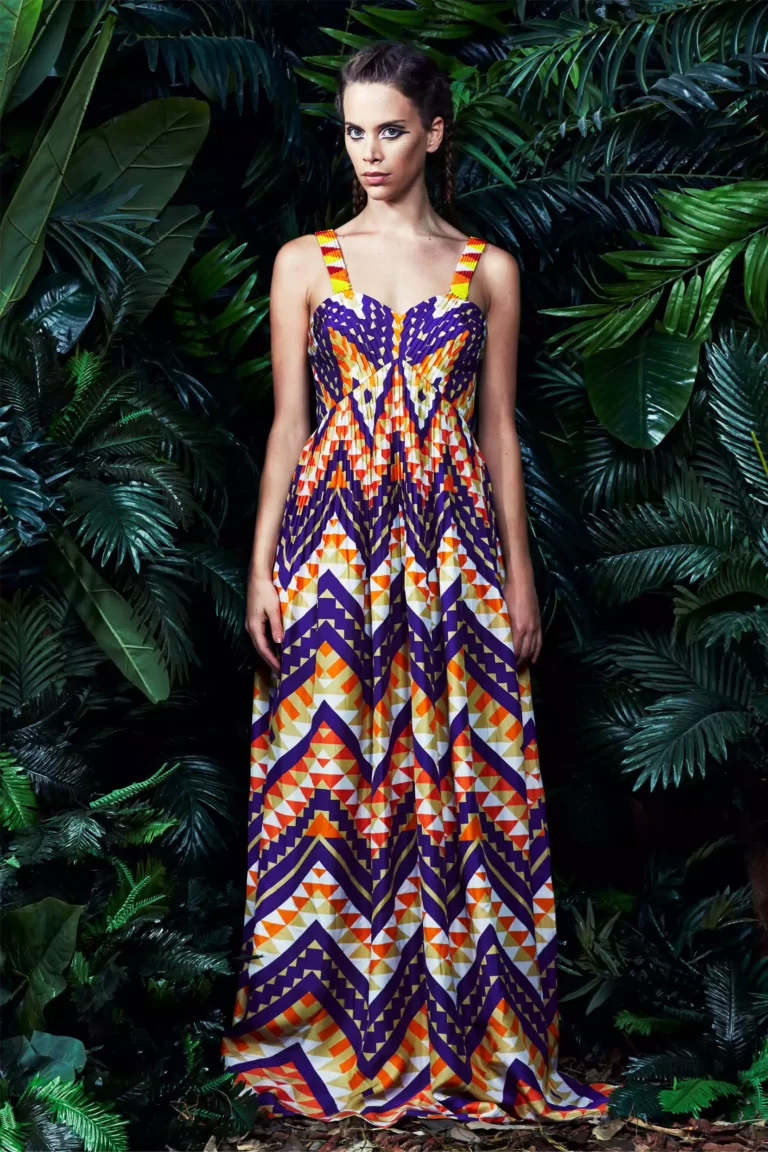 Look # 22

Pleated Tribal Dress
The Luxury Resort and Evening Wear collection blends artistry, inspiration, and sophistication, creating a captivating fusion of luxury resort wear and evening elegance. Drawing inspiration from wild and tribal motifs, the collection showcases the meticulous artistry of glass beading, transforming each garment into a wearable masterpiece.
Resort Wear:
For the resort wear segment, the collection features long silk flowy dresses adorned with exquisite embroideries at necklines, exuding an air of effortless luxury. Jumpsuits, designed with impeccable craftsmanship, cater to the jet-setting holiday crowd, offering style and comfort. These resort pieces epitomize grace and elegance, making them ideal choices for leisurely days and glamorous evenings.
Evening Wear:
In evening wear, the collection presents long dresses with bead embroideries on the waistline. These dresses blend flowy silhouettes with a tailored fit, enhancing the wearer's natural grace and charm. Additionally, the collection offers silk kaftans crafted in Moroccan and kimono styles. These kaftans make a modest yet powerful statement for evening affairs, embodying a harmonious balance between tradition and contemporary fashion.
Modest Glamour and Statement Pieces:
The collection's evening wear pieces, with their bead embroideries and flowing designs, exude glamour, making them perfect for sophisticated nights out. The incorporation of silk kaftans adds a touch of modesty while making a bold fashion statement, appealing to individuals who appreciate both subtlety and style.
In essence, this Luxury Resort and Evening Wear collection showcases the artistry of glass beading and celebrates the wild and tribal influences, creating a harmonious blend of opulence, cultural inspiration, and contemporary fashion sensibilities. Each garment in the collection tells a story of elegance, making it a testament to the designer's creativity and the wearer's discerning taste.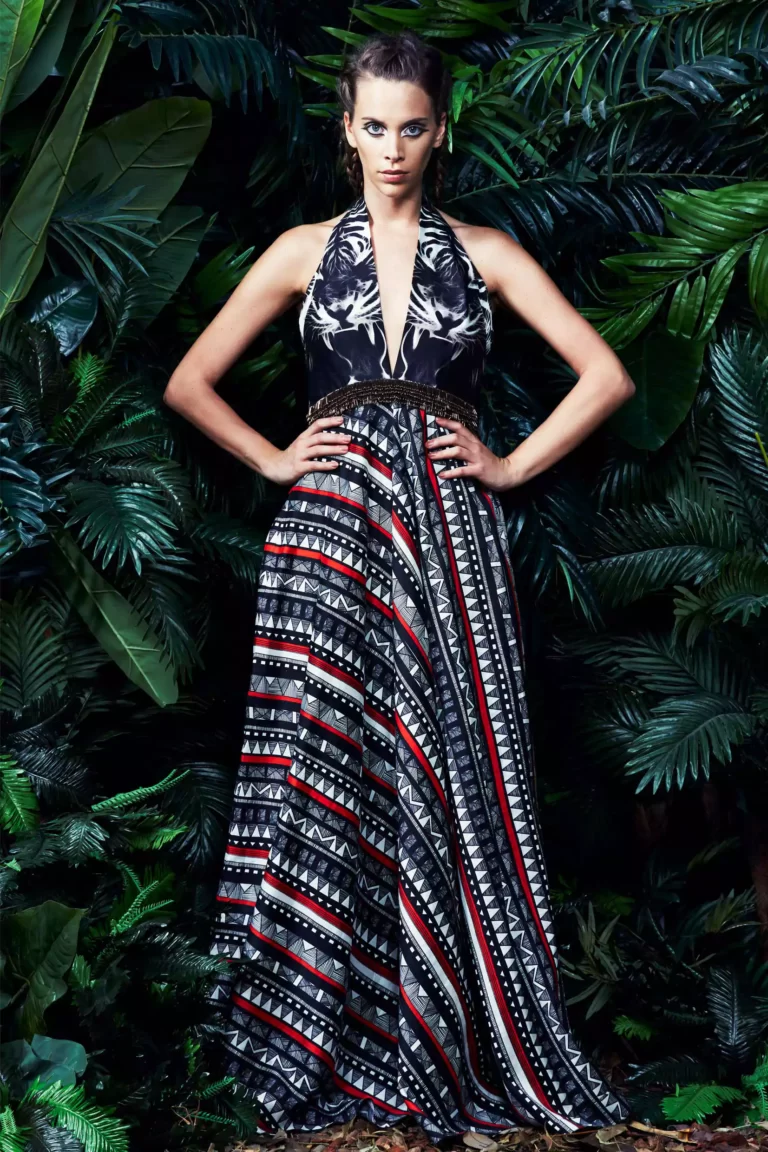 Look # 23

Beaded Tiger Tribal Dress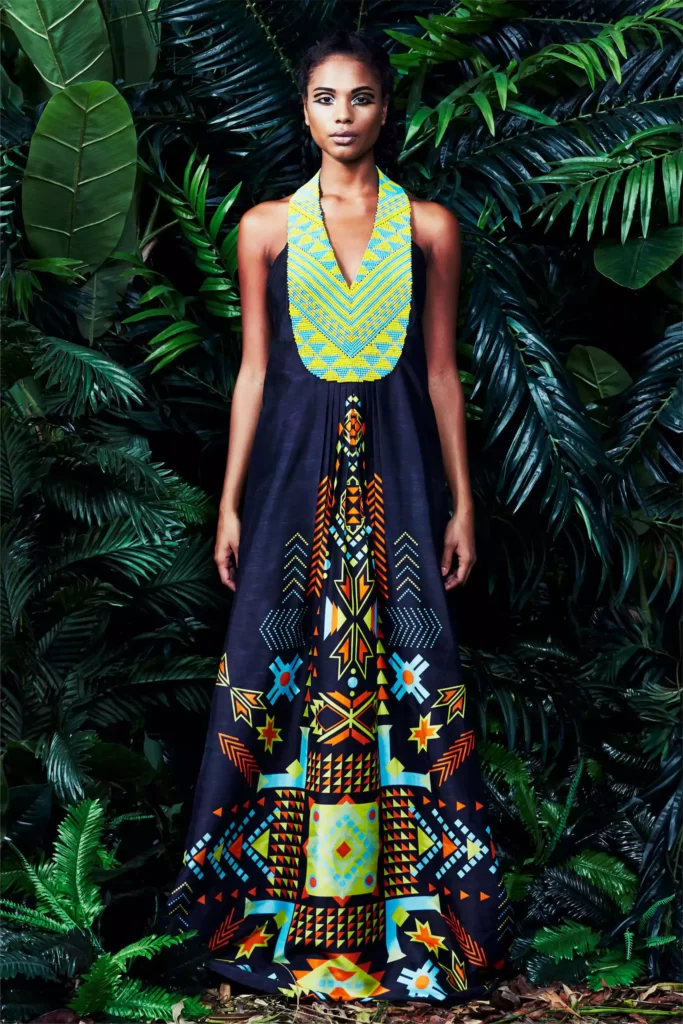 Look # 24

Beaded Kaftan Dress
Look # 25

Masai Pleated Dress
Look # 25

Pleated Dress with Jacket
Look # 26

Tribal Sleeve Kaftan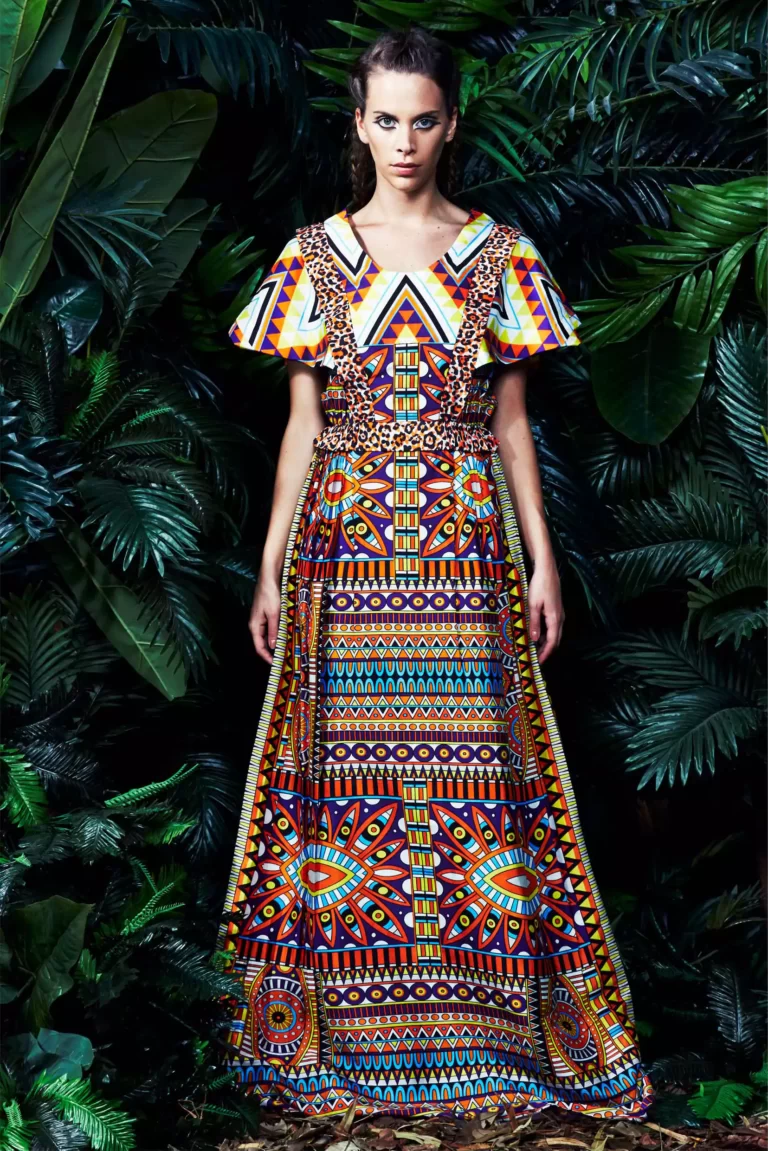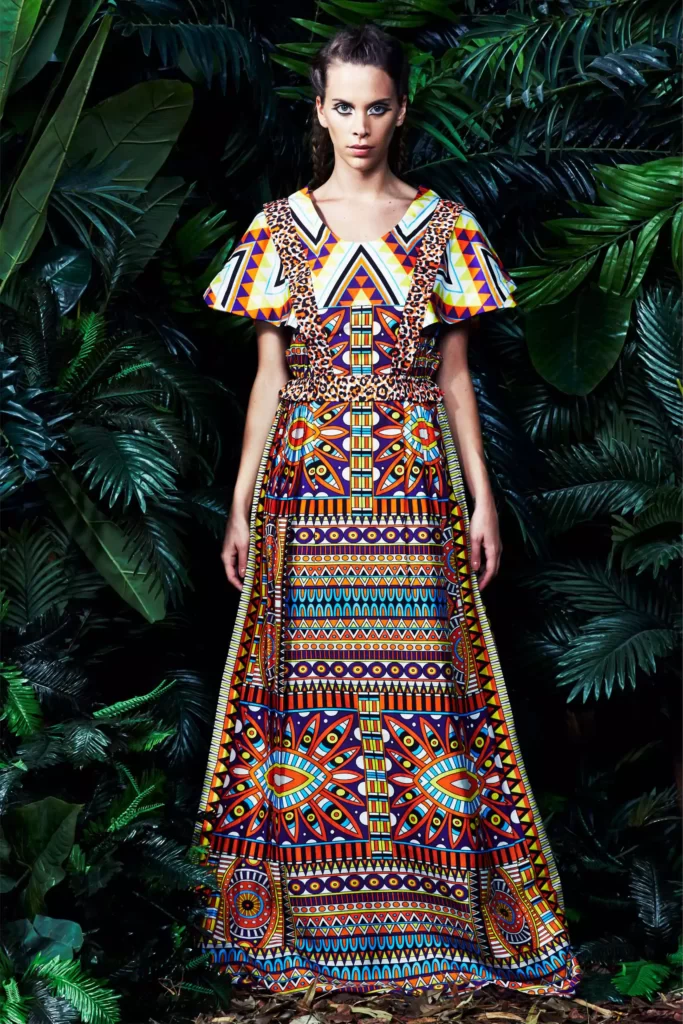 Look # 27

Indian Gathered Kaftan
Look # 28
Beaded Kimono Kaftan
Look # 29

Beaded Classic Kimono